EUROCUP
2009-04-06 23:08
Ne veltui tiek metų Lietuvos vyrų krepšinio rinktinės sirgalių siela bei Vilniaus "Lietuvos ryto" gerbėjas Sėkla tampėsi su savim tą garsiąją vėliavą su užrašu "Kur Stepas?"! Pagaliau išaušo ir Stepo diena! Pasaulio jaunimo čempionas tiesiog buvo "pasmerktas" sublizgėti finalinėse EUROCUP turnyro rungtynėse. Steponas Babrauskas drąsiai atakuodamas krepšį pelnė 18 taškų, o svarbiausia - įsmeigė lemiamą tritaškį lyg patį aštriausią žeberklą į beviltiškai pinigų jūroje skęstantį "Chimki" ryklį!
Visada tikėjau tuo, jog trys (sezono pradžioje net keturi) į vieną komandą suburti pasaulio jaunimo čempionai, padedami kitų puikių krepšininkų, gali nuveikti labai daug. Ir išties vakar lemiamomis rungtynių akimirkomis būtent milžiniškomis Stepono Babrausko bei Artūro Jomanto pastangomis (jokiu būdu nenuvertinant kitų žaidėjų indėlio visų rungtynių metu) ant menčių buvo parklupdytos vienos ryškiausių pasaulio krepšinio žvaigždžių – olimpinis čempionas Carlosas Delfino ir pasaulio čempionas Jorge Garbajosa, be to, įveiktas klubas, turintis 10 kartų didesnį biudžetą, o net pusė Maskvos srities "Chimki" dvyliktuko – NBA duonos ragavę žaidėjai, kuriuos treniravo Ispanijos rinktinės vyriausiasis treneris Sergio Scariolo! Todėl tikrai ne šiaip sau R.Kurtinaitis po finalo šmaikštavo: "Tokių skaičių, koks yra "Chimki" klubo biudžetas, manęs mokykloje nemokė. Labai malonus jausmas yra nugalėti tokią turtingą komandą. Negaliu to jausmo jums papasakoti. Čia kaip seksas".
Po tokių rungtynių vienas smagiausių mano užsiėmimų – pažvelgt į priešininkų šalies žiniasklaidos pasisakymus. Štai ištrauka iš rusų tinklalapyje championat.ru publikuojamo straipsnio "Turino košmaras, arba Baisus Scariolo sapnas":
"До сих пор слов нет, их неоткуда взять просто. Это какая-то фантастика, которая случается раз в сто лет. "Химки" отдали чисто выигранный матч, самоуспокоенность и близость к победе сыграла с подмосковными баскетболистами злую шутку. Играть нужно было до последней секунды, как это делали безнадёжно отстававшие литовцы. Обнажилась в последней четверти и главная проблема химчан - отсутствие классного плеймейкера. Поздравляем "Летувос Ритас" с дублем в Еврокубке, путёвкой в Евролигу на будущий сезон, и на этой грустной ноте мы вынуждены завершить репортаж из Palasport Olimpico".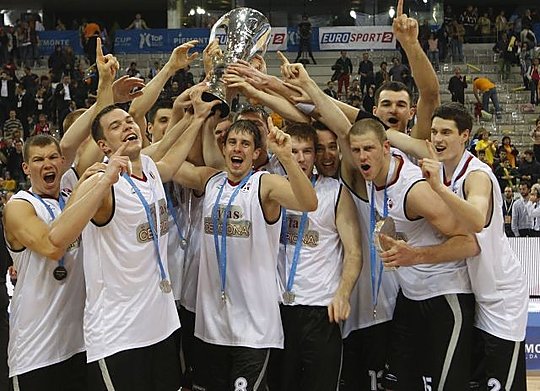 Foto: lrytas.lt
Sveikinu Vilniaus "Lietuvos ryto" klubą ir jo sirgalius, o taip pat ir visus Lietuvos krepšinio mylėtojus – juk Eurolygoje matysim vėl dvi Lietuvos komandas!
Patiko (0)
Rodyk draugams
Komentarai (1,512) : "Lietuvos krepšinio triumfas ||| EUROCUP 2009"
Rašyti komentarą